KAHPERD Fitness Education Workshops

Reigster today for the FREE Fitness Education workshops in your area. All participants MUST be current KAHPERD members. The information provided will motivat you and your students to understand fitness concepts and provide methods to integrate fitness education into your program. All workshops will be help from 9-3.
March 3 - Dodge City
March 30, Manhattan
April 14 - Shawnee Mission
April 28 - Pittsburg
Specific locations, parking etc. will be shared one week prior to the workshop.
Click the link below to register for the workshop:
The PPT and resources for the workshop are posted below.
/user/file/PYFP%20presentation%20updated%20with%20resources.pptx
Registration for the KAHPERD 2017 Summer Workshop to open April 6th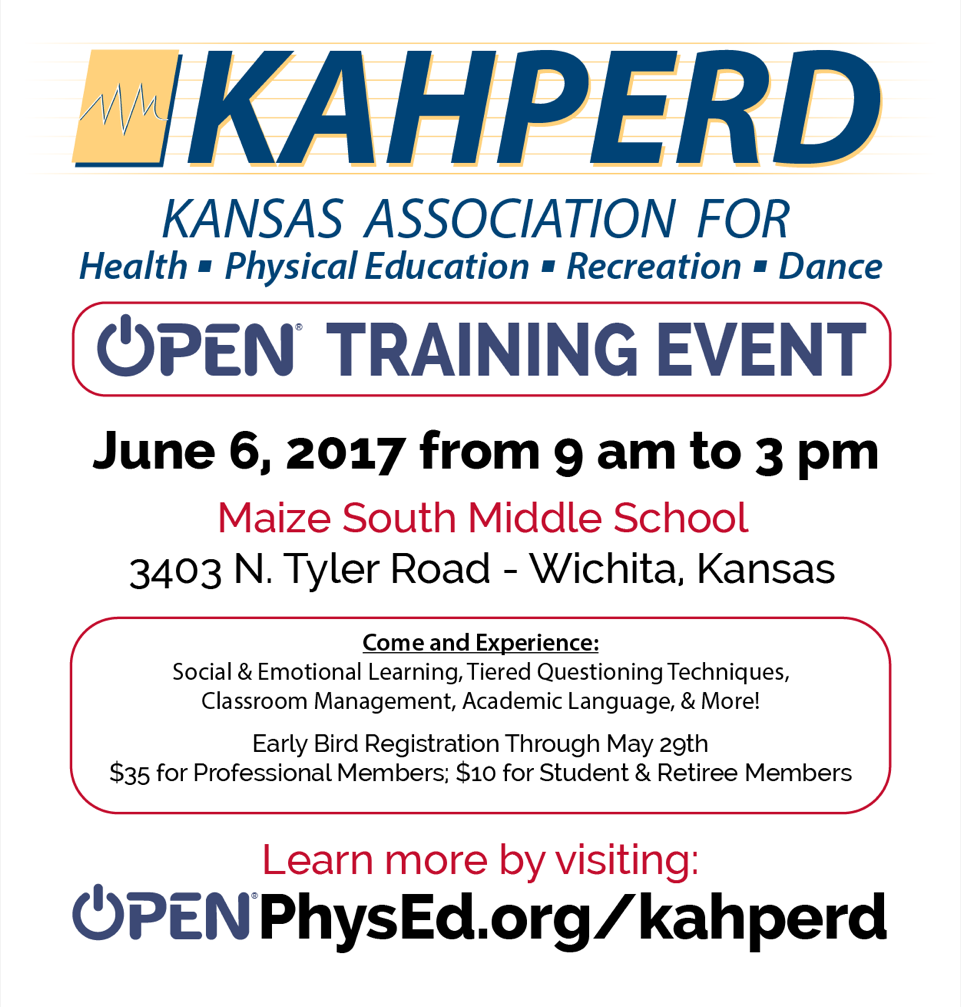 Click the link to register for this fantasic event: http://goo.gl/5DpuYz
50 Million Strong by 2029
Approximately 50 million students are currently enrolled in America's elementary and secondary schools (grades pre-K to 12).
SHAPE America wants to ensure that by the time today's preschoolers graduate from high school in 2029, all of America's students are benefiting from the skills, knowledge and confidence to enjoy healthy, meaningful physical activity.
Watch the video of how KAHPERD leaders plan to promote 50 Million Strong - https://youtu.be/VG1J9vew7DE
National Physical Education and Sport Week
KAHPERD 2017 Winter Workshop Handouts and Certificates
Central District SHAPE America Conference – January 25-27, 2018 in Sioux Fall, SD. More details to follow later.
Kansas Kids Fitness and Safety Day
Kansas Kids Fitness and Safety Day (KKFSD) is a statewide event held every year on the first week in May. This event focuses on increasing physical activity and safety awareness among 3rd grade students in Kansas. Nearly 18,000 students participate each year at more than 40 sites across the state. For information on how to sign up to host such an event contact: Kelly Wayner, kwayner@kdheks.gov, (785) 296-5033.
KAHPERD provides KAHPERD members hosting a KKFSD event, with funding to assist with expenses for a KKFSD event. Such funding available only upon request. For more information regarding how to request this funding contact: Jannelle Robins-Gaede, gaede@pld.com.