KAHPERD PROGRAMS
Resource Guide
The Jump for Heart website at SHAPE America has some great resourses.
American Heart Association also has some wonderful resources for Jump Events.
Jump / Hoop Contacts
JRFH/HFH State Coordinator - Brenda Sharp
See this map for contact person
JUMP ROPE FOR HEART
KAHPERD Jump Rope for Heart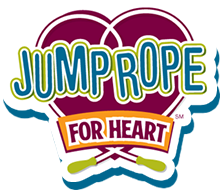 Jump Rope For Heart (JRFH) is a national fundraising program jointly sponsored by SHAPE America and the AHA. JRFH promotes physical activity, heart healthy living, and community service. JRFH targets elementary school students, but anyone can hold a JRFH event.
Jump Rope For Heart...
Is a fun event!

Promotes community service

Is an educational program for elementary students

Raises funds for lifesaving research and educational programs

Teaches students to set goals and discover that they can make a difference!
Over a million dollars raised in 2012-2013!
In the 2012-2013 School Year, 495 Kansas teachers completed a Jump Rope for Heart, Hoops for Heart or Combo Event!
They raised $1,204,580! This is an average of over $2000 per event.
This represents 115 different cities from across the state. From St Fransis to Pittsburg, Liberal to Lenexa and Belleville to Bird City, Kansas teachers are making a difference! This year is Jump Rope for Heart's 35th Anniversary. Let's set a goal for next year's total number of events to be 530 and add 35 names to the list.
Imagine what our success could be if your name was on this list next year!
KANSAS CONTACTS
Brenda Sharp
KAHPERD, Joint Projects Chair
bsharp@goddardusd.com

Nikki Medina
AHA Youth Marketing Director
nikki.medina@heart.org
RESOURCES
New! JRFH / HFH Online Fundraising Help
We are excited to announce a new pilot program exclusively for Midwest Affiliate JRFH/HFH schools to assist with additional online questions you might have after completing your event planning meeting. Have you ever had a parent contact you with an online issue but you didn't know what to do? These problems are solved with the addition of our Online Customer Care Specialists who are working directly with your school's American Heart Association representative.
Download information sheet and contact details »

Ten great posters to motivate your students (New! January 2014): single zip file

Organizational hints: PDF | Word

Long Rope Skills and Games: PDF | Word